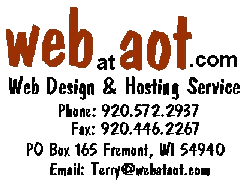 $50.00 Special Informational Site
This is perfect example of our $50.00 special use web site. This particular site is to assist family and friends of an upcoming wedding event.
Besides a copy of the invitation the site includes maps and location of reception hall, the local community, and local lodging information is also provided. There is also email forwarding if anyone wishing to contact the couple. An online RSVP page can also be included to reduce postage cost.
This site is all inclusive. The single page site size is dependant on the amount of information you wish convey. The typical site is equivalent to three standard 8X10 sheets of paper on a single page. A map and a secondary reference map is also included. The site is set up for a 6 month period, and no domain registration is required.
Cost of the site is $50.00 complete for six months posting. Additional 3 months posting is $10.00 per 3 months.
Call 920.572.2937 fax 920.446.2267 or write for details: Email
Visit site www.webataot.com/wed
Return to Top